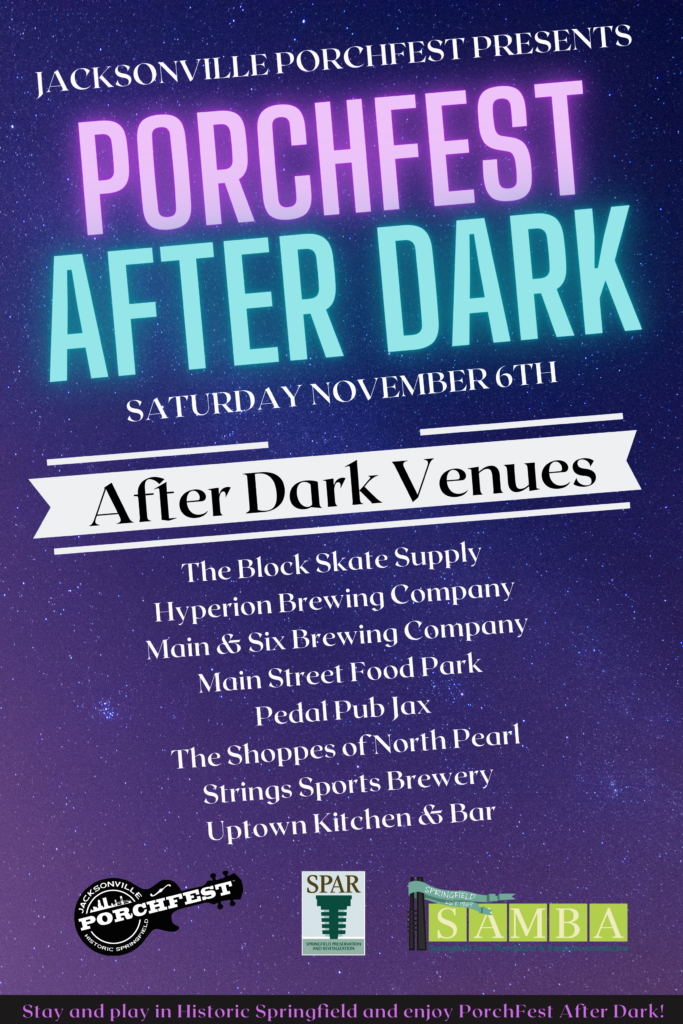 Make sure you stick around after Jacksonville PorchFest 2021 and see what Historic Springfield's businesses have to offer AFTER DARK! Stroll through the neighborhood and check out these businesses who are offering live music, promotions, discounts, and events to keep our favorite day of the year going on Saturday night!
The Block Skate Supply & Anactglobal have partnered to throw an epic after party at 1717 North Main Street featuring live music from Torrey Tate, a silent disco by Hush Hush Silent Disco, cocktails by Wildcrafters, pop ups from local businesses, food from local favorites Chancho King, and more. RSVP to the Block Party here.
Looking to get away from the hustle and bustle around the festival footprint? Consider heading up to The District at 2026 Walnut Street. Not only do they have a relaxing atmosphere, but they'll be hosting live music from 7 pm to 10 pm.
Historic Springfield's three breweries (Hyperion Brewing Company, Main & Six Brewing Company, and Strings Sports Brewery) will be offering discounts, promotions, as well as some great college football viewing. Ask about their offers when you grab their latest local brew!
Main Street Food Park, one of Historic Springfield's newest businesses, will be hosting food trucks, as well as live local music featuring motown bands - The Real J-Truth and The Natural Truth.
Hoping to get off your feet after the festival? Look no further than Pedal Pub Jax's Historic Springfield tour! The tour will commence at 8 pm and ends at 10 pm. Attendees will meet at Crispy's Springfield Gallery and stop by all three of the breweries on Main Street. Tickets are $48, with 50% of the proceeds donated to benefit Jacksonville PorchFest 2022, and will include a beer at each brewery for each participant.
It's not just Main Street businesses that will be partying, but also our friends at The Shoppes of North Pearl! Head on over to the 1800 block of North Pearl Street to visit businesses like Icecapade Frozen Treats, The Cookbook Restaurant, Simply Ke'say Boutique, 1 Foxy Lady Cafe & Catering, Auntie Peaches, and more from 7 pm to 11 pm. Go and enjoy a continuance of the night as you eat, sip, shop, and enjoy live entertainment!
Last, but not least, Uptown Kitchen & Bar, will be open late serving dinner, as well as cocktails. Make sure you swing by 1303 North Main Street and grab a nightcap.