Come to Historic Springfield for…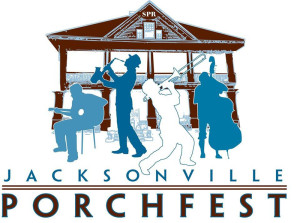 What is PorchFest?
Jacksonville is now home to one of the most popular events sweeping the country. The third annual Jacksonville PorchFest, a music festival held on front porches, will take place November 5, 2016, in Jacksonville's oldest neighborhood, Historic Springfield.
The family-friendly free event features musicians from a wide variety of genres. Organizers select 20 performers to play on porches throughout the historic district. Attendees stroll from porch to porch and "camp out" on front lawns as they enjoy live, local talent. Last year's event featured an evening performance by New Orleans funk band FlowTribe, presented by SMG and the Ritz Theatre.
Food trucks and artisan booths open at noon, and musical performances run from 1 to 9. Maps of porches and performers are available at the corner of Third and Silver Streets in Klutho Park. Parking is available along Main Street and near Klutho Park.
"PorchFest isn't simply a music festival. It's a celebration of front-porch living and all that the lifestyle embodies." ~ Elizabeth Augustus, Friend of Historic Springfield
"PorchFest was magical. It was day for people from all over Jacksonville to celebrate the joy of life while listening to local musicians on the beautiful front porches of Historic Springfield."~ Michelle Guglielmo Gilliam, Springfield resident
"...PorchFest is easily my favorite Jacksonville event. Thank you so much for all you do and give to make PorchFest so truly spectacular, to showcase Springfield so joyfully and to bring our city together so beautifully. I saw friends, friends, friends, spoke with every kind of person imaginable -- all of whom were there to share in a singular and unifying experience together -- reveled in the sounds of my musician friends and expanded my musical appreciation for sure…" – Robert Arleigh White, former Executive Director of the Cultural Council of Greater Jacksonville
2016 Jacksonville PorchFest Performers Include:
The Katz Downstairs
Mama Blue
Junco Royals
Groove Coalition
Young Step
Katie Grace Helow
Mere Woodard Band
Crazy Daysies
Ruby Beach
Jacksonville Old Time Jam

Canary in the Coalmine
Kim Retiguez and the Black Cat Bones
Marcus Parsley Trio
Spade McQuaid
Cedar Creek Drifters
The Hummingbirds
Chrome Heart
Douglas Anderson Guitar Ensemble



PorchFest 2016 is Presented by
Community First Credit Union
UF Health
SMG and The Ritz Theatre & Museum
Swisher International
Springfield Preservation and Revitalization Council
and our generous sponsors including:
A Cut Above Hair Salon
Tim Hope
Reputation Ink
Renee Parenteau Photography
Sargent Auto Upholstery
Alvarez and Wallace
TransForm Jax
Michael Alancourt
Jamie and Will Toraason
Johannes Ulrich and Hailing Zhong
Carolyn Brass and Jeffrey Shaleev



Reggie Fountain, Watson Realty
Pat Nodurft, Coldwell Banker Vanguard Realty
JWB Dream Homes
Jack Adams and Abel Harding
Karla and Alex Stremitzer
Doug and Doris Vanderlaan
Jeff Fountain
John Crispens
Scott Davis
Nicole Brockhouse and Todd Hollinghead

Florida Pump Service
Tracy Arthur
Baker Klein Engineering
Mickey and Beverly Miller
David and Laura Byres
Christina Parrish & Cliff Stone
Max, Crissie & Charlotte Cudd
Genora Crain-Orth and Jimmy Orth
Mark Ray
Michelle and Tucker Gilliam

PorchFest 2016 Vendors: Coming Soon! PorchFest 2015 Vendors included:
Funkadelic Food Truck
Fusion Food Truck
Chunky Tomato
Japapeño Truck
Eddis and Sons
The Conch Shell
Sweet Pete's Candy
My Grandmother's Pie
Wrap it Up
Delish Kebabs

Super Food Truck
Celeb's On the Move
Bold City Pops
Tasty Dog
Son of a Butcher
Happi Li
Serentea
Vagabond Flea
Southern Roots Apothecary
K Handcrafted
About SPAR
Springfield Preservation and Revitalization (SPAR). , a 501c3 non-profit organization dedicated since 1974 to improving the quality of life in the Springfield historic district, will act as the sponsoring non-profit for the festival. Proceeds will benefit arts programming in the neighborhood.
Contact PorchFest
The PorchFest organizers would love to hear from you!
Email us now!